Download a high resolution photo of the author (credit: Brian Miller)
Marcia Falk was born in New York City and raised on Long Island in a Conservative Jewish home. As an adolescent, she studied painting at the Art Students League and took classes in Hebrew and Jewish studies at the Jewish Theological Seminary. She received a BA in philosophy magna cum laude from Brandeis University and a PhD in English and comparative literature from Stanford. She was a Fulbright Scholar in Bible and Hebrew literature at the Hebrew University in Jerusalem and later returned as a Postdoctoral Fellow. A university professor for two decades, she taught Hebrew and English literature, Jewish studies, Bible, and creative writing at Stanford, Binghamton University, and the Claremont Colleges.
Marcia is widely known in the Jewish world for her poetic re-creations of Hebrew and English liturgy from an inclusive, nonpatriarchal perspective. Her bilingual prayer book, The Book of Blessings: New Jewish Prayers for Daily Life, the Sabbath, and the New Moon Holiday, originally published in 1996 and released in a 20th-anniversary edition by the CCAR Press, is considered a classic of modern Jewish liturgy and is used today by congregations in North America, Europe, and Israel, as well as by individuals. The Book of Blessings has been praised by distinguished author Cynthia Ozick, who wrote, "Marcia Falk's work on Hebrew blessings is as beautiful as it is innovative," and by liturgy scholar Rabbi Lawrence Hoffman, who called it "a liturgical and literary masterpiece."
The Days Between: Blessings, Prayers, and Directions of the Heart for the Jewish High Holiday Season, published in 2014, continued Marcia's liturgical project. It received praise from many writers and rabbis, including Rabbi David Teutsch, professor of Jewish civilization at the Reconstructionist Rabbinical College, who called it "a wonderful companion for the Ten Days of T'shuvah." Excerpts from The Book of Blessings and The Days Between appear in the standard prayer books of the major liberal Jewish denominations, including Reform, Conservative, Reconstructionist, and Renewal, as well as by the Reform movement in Israel.
In addition to her books of prayer, Marcia has published several volumes of poems and translations from Hebrew and Yiddish. Her translation of the biblical Song of Songs, which first appeared in 1977 and remains in print today, is considered a modern classic. Nobel Laureate I. B. Singer said of it, "I thought until now that the Song of Songs could not be translated better than in the King James Version. Marcia Falk has done an exceptional poetic job. She has great power in her language."
Among the 20th-century poets Marcia has translated are the Yiddish modernist Malka Heifetz Tussman and the Hebrew mystic Zelda. Poet Adrienne Rich wrote of Falk's translations and poetry, "It's always a thrill when (as rarely happens) the scholar's mind and the poet's soul come together."
In 2018, Marcia published a limited-edition book, Inner East: Illuminated Poems and Blessings, which contains her original artwork side-by-side with her poetry and blessings. By accompanying written words with visual images, Inner East aims to reach beyond the limits of verbal expression to deepen a prayerful state. Artist Mark Podwal, author of Reimagined: 45 Years of Jewish Art, has said, "Inner East is a marriage of word and image in which neither is subservient to the other. Falk's beautiful visual images are poems in paint that do not merely illustrate her written words but illuminate them."
Marcia's latest book is Night of Beginnings, a groundbreaking new haggadah for the Passover seder, published by the Jewish Publication Society/University of Nebraska Press in February 2022. Unlike traditional as well as new haggadahs, which do not contain a full recounting of the biblical story, Night of Beginnings presents the Exodus narrative in its entirety, providing a direct connection to the ancient origins of the holiday. This retelling highlights the actions of its female characters, and like her previous liturgical books, contains revolutionary new blessings to substitute for the traditional, patriarchal seder blessings. Her kavanot—meditative directions for prayer—introduce a genre new to the seder ritual, and her commentary on the biblical story raises interpretive questions that invite us to bring personal reflections into the discussion. Night of Beginnings has been lauded by numerous rabbis, scholars, and writers, including Yair Zakovitch, Emeritus Professor of Bible at the Hebrew University, and Rabbi David Ellenson, Chancellor Emeritus of Hebrew Union College, who called the book "magnificent" and said that it reveals "the liturgical genius of Marcia Falk."
Marcia is also a painter. Her work has been exhibited in solo and group shows in universities, JCC galleries, and other venues. Her latest project is a series entitled "Inner East," which juxtaposes her paintings with excerpts from her books.
A popular public speaker and dramatic reader of poetry, Marcia travels widely to college campuses, JCCs, and synagogues. Her topics range from the love lyrics of the Bible to contemporary Jewish women writers to the creation of inclusive prayer. She also leads congregations in services and rituals from The Book of Blessings and The Days Between.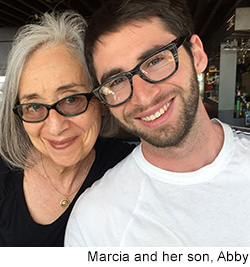 Marcia lives in Berkeley, California, with her spouse, the poet Steve Rood. Their son, Abraham Gilead Falk-Rood (aka Abby), teaches English and leads a music club in a public high school for immigrants in Oakland, California. He also tutors children with disabilities. For several years, Abby was a popular seller of produce at Berkeley's farmers' markets, where he is still a denizen. To this day, his parents don't lack for organic vegetables and fruit—a gift that has been especially appreciated during pandemic times.
© Marcia Lee Falk. Photo of Marcia & Abby by Steve Rood.
The text on this page is licensed under a Creative Commons Attribution 4.0 International License.