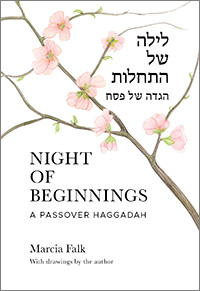 Night of Beginnings: A Passover Haggadah
Paperback, 232 pages
Find out how to order your copy
Download a high resolution cover image
View sample pages from the book
Night of Beginnings is a groundbreaking new haggadah for the Passover seder from acclaimed poet, translator, and liturgist Marcia Falk, beautifully designed and illustrated with original watercolor drawings by the author.
Unlike both traditional and new haggadahs, which do not contain a full recounting of the biblical story, Night of Beginnings presents the Exodus narrative in its entirety, providing a direct connection to the ancient origins of the holiday. This retelling highlights the actions of its female characters, including Miriam; Pharaoh's daughter, who adopts the baby Moshe; and the midwives Shifrah and Pu'ah, who save the Hebrew male infants. Falk's revolutionary new blessings, in Hebrew and English, replace the traditional, patriarchal seder blessings, and her kavanot—meditative directions for prayer—introduce a genre new to the seder ritual. Poems, psalms, and songs are arranged to give structural coherence to the haggadah. A new commentary raises interpretive questions and invites us to bring personal reflections into the discussion.
Like the author's widely acclaimed previous prayer books, The Book of Blessingsand The Days Between, Falk's poetic blessings for the seder envision the divine as a Greater Whole of which we are an inseparable part. The inclusive language of Falk's blessings makes room for women to find and use their voices more full-throatedly than they were able to do with the male-centered prayers inherited from the early rabbis. Men, too, will encounter here a spiritually moving and thought-provoking experience.
"How lovely to have a haggadah that makes central the biblical narrative that hovers over—but is absent from—the traditional haggadah. Those familiar with Marcia Falk's transformational work on Jewish blessings will be delighted by her new blessings for all parts of the seder, while those not yet acquainted with her blessings will find them a revelation. This is a beautiful haggadah."
—Judith Plaskow, author of Standing Again at Sinai and coauthor, with Carol P. Christ, of Goddess and God in the World
"In Night of Beginnings Marcia Falk continues the brilliant, groundbreaking work she began in her Book of Blessings. Her poetic voice seamlessly combines a profoundly feminist orientation with deep reading of Jewish tradition, and her sometimes daring kavanot (directions of the heart) encourage fresh conversation to renew the seder experience for contemporary participants."
—Rabbi David Teutsch, editor of Kol Haneshamah Reconstructionist prayer books
"Night of Beginnings once more reveals the liturgical genius of Marcia Falk. Her blessings honor classical Jewish tradition while celebrating a modern ethos that is feminist and inclusive. This magnificent haggadah will provide a spiritually enriching seder experience of unique depth."
—Rabbi David Ellenson, chancellor emeritus, Hebrew Union College–Jewish Institute of Religion

"Poet and scholar Marcia Falk builds a luminous bridge between the old and the new, firmly mooring the modern ritual to the ancient biblical narrative and inspiring us with the preeminent story of the passage from slavery to freedom, from darkness to light."
—Yair Zakovitch, emeritus professor of Bible, the Hebrew University of Jerusalem, and recipient of the Israel Prize

"A prophet and founding mother of feminist Judaism, Marcia Falk has played a pioneering role in modern Jewish ritual and liturgy. Immersed in profound knowledge of the traditional sources and a fresh vision of Jewish worship, her writing has inspired worshippers, writers, and religious leaders for over four decades. Her newest gift, Night of Beginnings, is a work of wisdom, art, and love."
—Rabbi Dalia Marx, professor of liturgy, Hebrew Union College, Jerusalem

"Marcia Falk has lovingly gifted us with a poetic recounting of the biblical narrative along with eloquent rituals, blessings, and meditations. Pastel-colored pages invite readers to distinguish the book's varied elements. Rather than illustrate her haggadah with yet more interpretations of centuries-old classic iconography, Falk adorns her celebratory text with her own elegantly drafted spring flora to create a gorgeous and exceptionally important haggadah."
—Mark Podwal, artist and recipient of the Foundation for Jewish Culture Achievement Award

"Every generation must see itself as leaving Egypt, and every generation must tell the story anew. In this resonant retelling, Marcia Falk weaves ancient passages with new poetic creations. Newcomers as well as those deeply engaged with Jewish ritual will discover the overflowing of Miriam's and Elijah's cups in this stunning haggadah."
—Rabbi Naamah Kelman, dean, Hebrew Union College, Jerusalem
View sample pages from Night of Beginnings (click on an image to enlarge):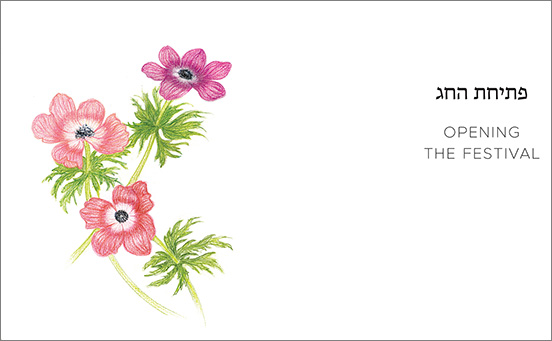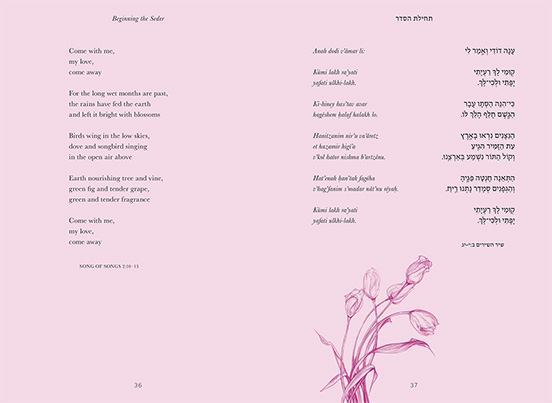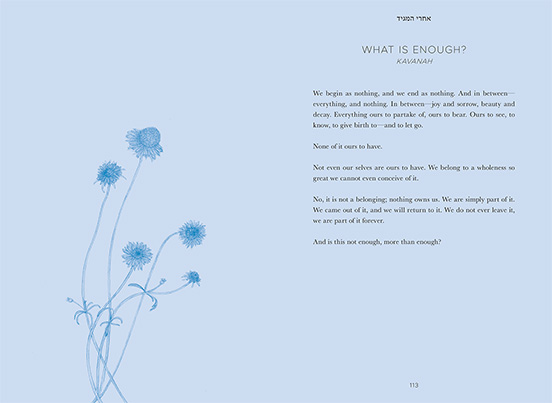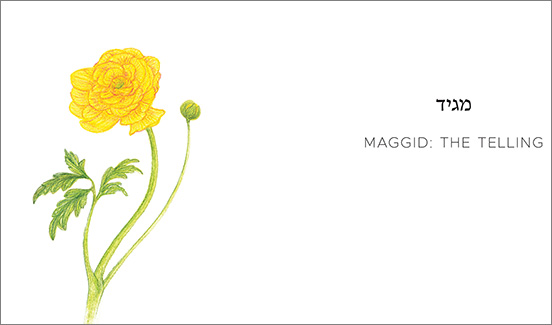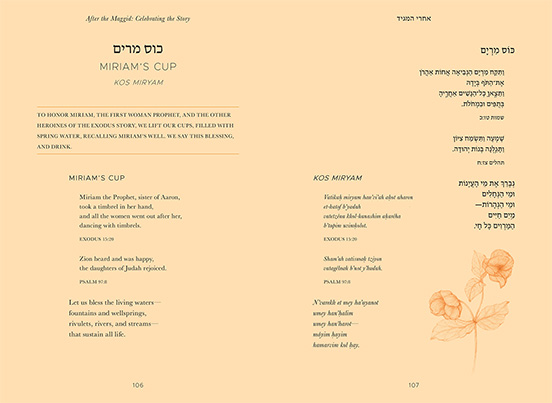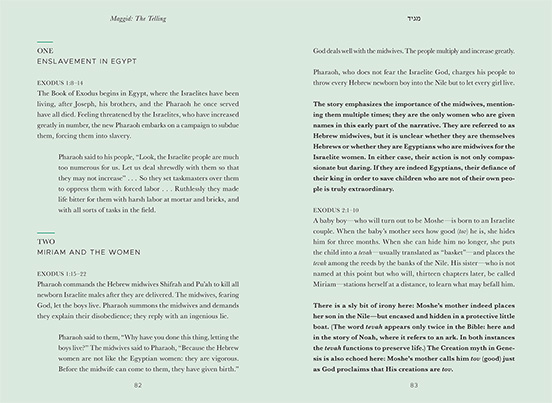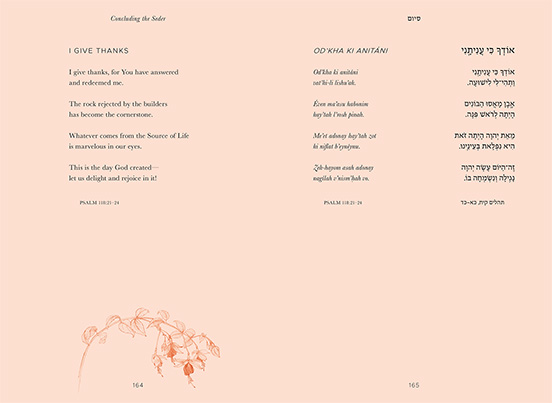 © Marcia Lee Falk.