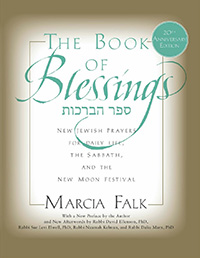 The Book of Blessings
New Jewish Prayers for Daily Life, the Sabbath, and the New Moon Festival
Harper Collins, 1996
Beacon Press (paperback), 1999
CCAR Press (20th-anniversary edition), 2017
Read an excerpt from The Book of Blessings
Find out how to order The Book of Blessings
Read the New York Times article on The Book of Blessings
"Falk has fashioned a beautiful and inspirational book of elegant prayers, poems, psalms, and blessings."
—Publishers Weekly
"Falk puts purpose and potency back into prayer."
—Alisa Solomon, The Village Voice
"This is a work of art, a comprehensive revisioning of Judaism's liturgical genius from the pen of consummate poet and Hebraist Marcia Falk. The feminist critique of traditional liturgical language breaks new ground in this bold and creative reconceptualization."
—Rabbi Lawrence A. Hoffman, Professor of Liturgy, Hebrew Union College
Through the act of blessing, we awaken our appreciation of the world's abiding gifts. In The Book of Blessings, Marcia Falk re-creates Jewish prayer by offering new blessings, poems, and meditations that focus on the sacred potential of each moment. With a collage of poetic forms and the inclusion of diverse voices—not just Falk's but those of Yiddish and Hebrew women poets newly translated by Falk into English—The Book of Blessings invites us to celebrate "the dynamic, alive, and unifying wholeness within creation." Steeped in dialogue with rabbinic tradition—engaging with its themes and concerns, echoing its rhythms, tracing its structure and its patterns—The Book of Blessings challenges from within the tradition's patriarchal assumptions and hierarchical order.
The Book of Blessings is for those who feel excluded or alienated from the traditional liturgy and seek another way to connect with Jewish history and tradition. The Book of Blessings is also for those who embrace the tradition and seek to supplement and enrich it, keeping it vital and growing in our own time. Offering, for the first time in modern history, a complete new liturgy in Hebrew as well as English, The Book of Blessings is for use in both the home and the community on weekdays, Sabbaths, and the festival of the New Moon. The liturgy is enhanced by a Commentary that illuminates its meanings for general readers as well as scholars.
The Book of Blessings won the 1997 Award for Excellence in Concept and Design from Bookbuilders West. Book jury member John Cronin commented, "Less can be more, and subtlety can enhance straightforward design. I found those qualities in The Book of Blessings, with an understated text and cover design yet very usable format."
"We've waited 3,000 years: Marcia Falk's Jewish feminist prayer book is here."
—Cover of Lilith: The Independent Jewish Women's Magazine
"If anyone can revive the habit of praying, it is Marcia Falk. In her new collection, she has rendered in eloquent and inspiring language prayers for all occasions. They avoid the anthropomorphisms of the Jewish tradition and the unavoidable male domination of the Hebrew language. As a feminist and a poet, Marcia Falk invites the so-called secularist to pray without sacrificing intellectual or moral integrity."
—Rabbi Ira Eisenstein, President Emeritus, Reconstructionist Rabbinical College, and Judith Kaplan Eisenstein, Ph.D.
"Falk's rare poetic, spiritual, and intellectual gifts ensure that this long-awaited volume of feminist prayer will remain an enduring treasure, expanding the vocabulary of Jewish liturgy and awakening and deepening awareness of the holy in every aspect of life."
—Judith Plaskow, author of Standing Again at Sinai: Judaism from a Feminist Perspective
"The Book of Blessings sets a new standard for feminist Jewish liturgy. Falk's long-awaited magnum opus brilliantly demonstrates the importance of feminist insights for rethinking Jewish theology and prayer. Her bold and controversial work reflects a poet's sensitivity and a scholar's insights. This book will be the measure against which other works in the field are judged."
—Rabbi David A. Teutsch, President, Reconstructionist Rabbinical College
"Marcia Falk recasts the English of our blessings with her exquisite poetry and—uniquely—refacets the Hebrew with the caution, precision, and artistry of a jeweler. Before Falk, women had to enter the prayer experience sideways; her remarkable book now leads into a whole new relationship to the most familiar words of the Jewish tradition."
—Susan Weidman Schneider, author of Jewish and Female
"Not since Miriam danced at the Red Sea or Deborah praised God in song has the voice of women's soul in prayer been so passionately articulated. The Book of Blessings will surely become a beloved companion to the modern pray-er and more traditional prayer book."
—Rabbi Naamah Kelman, Israel Movement for Progressive Judaism
"Falk is a non-Orthodox Jew who finds that the fragmentation of contemporary American Judaism offers a space within which to imagine a feminist Judaism. In love with the Hebrew language, yet deeply critical of the sexism, anthropocentrism and rigidity of the traditional liturgy, she manages to create extraordinarily beautiful prayers—in Hebrew and English—that are both radically new and deeply resonant with Jewish tradition. . . . Falk uses no female images and little feminine grammar. Instead, she evokes the sacred as totally immanent in creation, offering an alternative to the whole notion of God as male or female person. In effecting a radical transformation of divinity, she embodies in wonderful poetry many of the central claims and insights of 25 years of feminist theology. . . . The fact that Falk's liturgy generates heated theological discussion indicates the importance and usefulness of this book to a wide audience. Readers should not assume that because The Book of Blessings is a Jewish prayerbook it is only that, or addressed only to Jews. It has much to offer anyone interested in the transformation of images and conceptualizations of the sacred—and that includes atheists!"
—Judith Plaskow, The Women's Review of Books
"Falk has produced a masterpiece and the most profound challenge to the Jewish liturgical canon in recent memory. . . . What is astounding is that it all sounds so Jewish, so right, so easy to pray. That is her poetic gift. . . . Falk has managed to create a series of prayers that both link us to the Jewish past and disrupt many of our assumptions about what prayer should be . . . It offers us the opportunity for a new kind of spiritual encounter: one that takes the politics of prayer seriously in a very crucial way."
—Rabbi Rebecca Alpert, Tikkun
"It will be a pity if The Book of Blessings is pigeonholed as just another religious book (or worse, another feminist religion book), because Falk's poetic voice is so strong and soulful that it deserves to be received as a work of poetry in its own right."
—Laura Hagar, East Bay Express Books
"While all the poetry [in The Book of Blessings] is infused with spirituality, it is never pious or didactic. Thus, it can be read purely as poetry for its own sake, regardless of one's religious affiliation or concept of God. . . . This authentic, deeply felt poetry opens up the spiritual realm to people of varying theologies and sensibilities."
—Lucille Lang Day, Poetry Flash
© Marcia Lee Falk.