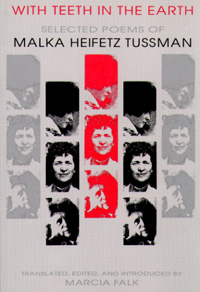 With Teeth in the Earth
Selected Poems of Malka Heifetz Tussman
Translated, Edited, and Introduced by Marcia Falk
Wayne State University Press, 1992
Read an excerpt from With Teeth in the Earth
Find out how to order With Teeth in the Earth
"[Tussman's] elegant, deft lyrics subvert the central myth of women's lives: the belief that happiness and fulfillment come from devotion to others . . . Marcia Falk has gracefully and intelligently captured Tussman's subtle ironic tone."
—Miriam Levine, American Book Review
With Teeth in the Earth is the first full-length collection in English of the poetry of acclaimed Yiddish-American poet Malka Heifetz Tussman. Selected from her six books of verse and from a last unpublished manuscript, these poems reflect her love of nature, her deep enjoyment of the physical and sensual world, and her experience of spirituality.
Of Tussman's long and prolific career, the eminent Yiddish poet Abraham Sutzkever has written: "The older she grew, the younger her poetry became. There is not a trace of old age in the lines written with twisted fingers and dimmed eyes of ninety. They are ecstatic affirmations, utterances of a child prodigy that become the poetry of a personality as soon as they enter the world . . . Everything Malka touched became poetry."
"Marcia Falk was privileged to enter into a kind of symbiotic relationship with a major American Yiddish poet, a late Yiddish modernist and early Yiddish feminist, Malka Heifetz Tussman. The present, posthumous volume of Heifetz Tussman's verse testifies to the power of poetry and personal commitment to bridge the cultural and generational abyss. Falk's Introduction strikes a perfect balance between reminiscence and research. In twenty-three pages it sets forth both the uniquely Yiddish qualities of Heifetz Tussman's verse and her place as a twentieth-century poet. The selection of poems that follows is itself a work of scholarship, as it defines, for the first time, the full thematic and formal range of this poet's productive career."
—David G. Roskies, Chair, Dept. of Jewish Literature, Jewish Theological Seminary of America
"As poetic renderings, [the translations] have that stamp of [Falk's]: attention and selflessness before the work, integrity as poems in English. I love the introduction: its depiction of a particular woman writing out of one language and tradition, by decision, while living in another; of a relationship of work and friendship between two women artists; of the process of making and translating poetry."
—Adrienne Rich
"We are fortunate to have at last in English a full-length collection of the poetry of Malka Heifetz Tussman, translated by poet and Jewish-feminist scholar Marcia Falk . . . These translations do not read like translations, but like poetry written originally in English. This is to the great credit of Marcia Falk, who has even managed to preserve the form of Tussman's triolets —which have a complicated scheme of rhymes and repetitions —in this stunning collection. Falk's contribution to the book also includes a moving and fascinating introduction that presents biographical information about Tussman, tells the story of Tussman and Falk's friendship and collaboration, and offers critical discussion of both Tussman's poetry and the translation process."
—Lucille Day, Calyx
"With Teeth in the Earth is a well-chosen selection from one of the finest of our American-Yiddish poets. The translator and editor, Marcia Falk, worked closely with Tussman before her death at the age of 91 in 1987. Ms. Falk, a major translator of Hebrew and Yiddish texts and the author of two books of her own poetry, has invested both her scholarly attention and her close friendship with Tussman to create an attractive and important volume of Yiddish poetry—always an event to be celebrated . . . Credit is due to Ms. Falk for presenting Tussman's wonderful poetry in such an intelligent, readable manner."
—Joel Lewis, Forward
"The poet Marcia Falk has performed a labor of love in translating Tussman's poems. Her introduction is excellent, both objective and personal, describing Tussman's work as well as their working together . . . The translations are good English poetry . . . Tussman wrote many triolets, and Falk succeeds in some admirable translations of these . . . Marcia Falk has done modern Yiddish poetry a service in preserving Tussman's poetry."
—Ruth Whitman, Choice
© Marcia Lee Falk.