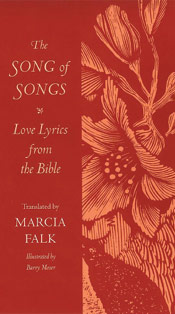 Excerpts from The Song of Songs

Poem 2 (Song of Songs 1:5-6)
Yes, I am black! and radiant—
O city women watching me—
As black as Kedar's goathair tents
Or Solomon's fine tapestries.
Will you disrobe me with your stares?
The eyes of many morning suns
Have pierced my skin, and now I shine
Black as the light before the dawn.
And I have faced the angry glare
Of others, even my mother's sons
Who sent me out to watch their vines
While I neglected all my own.
Read the translator's commentary on this poem
Poem 9 (Song of Songs 2:8-13)
The sound of my lover
coming from the hills
quickly, like a deer
upon the mountains
Now at my windows,
walking by the walls,
here at the lattices
he calls—
Come with me,
my love,
come away
For the long wet months are past,
the rains have fed the earth
and left it bright with blossoms
Birds wing in the low sky,
dove and songbird singing
in the open air above
Earth nourishing tree and vine,
green fig and tender grape,
green and tender fragrance
Come with me,
my love,
come away
Poem 24 (Song of Songs 7:11-14)
Turning to him, who meets me with desire--
Come, love, let us go out to the open fields
And spend our night lying where the henna blooms,
Rising early to leave for the near vineyards
Where the vines flower, opening tender buds,
And the pomegranate boughs unfold their blossoms.
There among blossom and vine I will give you my love,
Musk of the violet mandrakes spilled upon us . . .
And returning, finding our doorways piled with fruits,
The best of the new-picked and the long-stored,
My love, I will give you all I have saved for you.
Poem 28 (Song of Songs 8:6-7)
Stamp me in your heart,
Upon your limbs,
Sear my emblem deep
Into your skin.
For love is strong as death,
Harsh as the grave.
Its tongues are flames, a fierce
And holy blaze.
Endless seas and floods,
Torrents and rivers
Never put out love's
Infinite fires.
Those who think that wealth
Can buy them love
Only play the fool
And meet with scorn.
Read the translator's commentary on this poem
© Marcia Lee Falk.