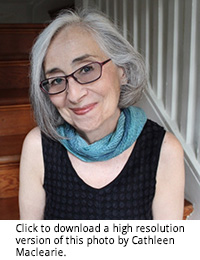 Marcia Falk is the author of several highly acclaimed books, including The Book of Blessings: New Jewish Prayers for Daily Life, the Sabbath, and the New Moon Festival; The Song of Songs: Love Lyrics from the Bible; The Spectacular Difference: Selected Poems of Zelda; With Teeth in the Earth: Selected Poems of Malka Heifetz Tussman; and three books of her own poetry, This Year in Jerusalem, It Is July in Virginia, and My Son Likes Weather. You can read excerpts from her books on this site. Marcia is also a painter and life member of the Art Students League of New York. You are invited to view some of her artwork in the Art Gallery.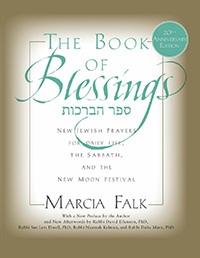 Coming Sept. 1 from CCAR Press!
The Book of Blessings: 20th Anniversary Edition
New Jewish Prayers For Daily Life, The Sabbath, And The New Moon Festival
Pre-order the book from CCAR Press
Through the act of blessing, we awaken our appreciation of the world's abiding gifts. In The Book of Blessings, Marcia Falk re-creates Jewish prayer by offering new blessings, poems, and meditations that focus on the sacred potential of each moment. With a collage of poetic forms and the inclusion of diverse voices—not just Falk's but those of Yiddish and Hebrew women poets newly translated by Falk into English—The Book of Blessings invites us to celebrate "the dynamic, alive, and unifying wholeness within creation." Steeped in dialogue with rabbinic tradition—engaging with its themes and concerns, echoing its rhythms, tracing its structure and its patterns—The Book of Blessings challenges from within the tradition's patriarchal assumptions and hierarchical order.
Read more about The Book of Blessings
Also Available:
The Days Between
Blessings, Poems, and Directions of the Heart for the Jewish High Holiday Season
The Jewish High Holidays—the ten days beginning with the New Year Festival of Rosh Hashanah and culminating with Yom Kippur, the Day of Atonement—constitute the most sacred period of the Jewish year. During this season, religious as well as nonaffiliated Jews attend synagogue services in unparalleled numbers. Yet much of what they find there can be unwelcoming in its patriarchal imagery, leaving many worshipers unsatisfied.
For those seeking to connect more deeply with their Judaism, and for all readers in search of a contemplative approach to the themes of the fall season, poet and scholar Marcia Falk re-creates the holidays' key prayers and rituals from an inclusive perspective. Among the offerings in The Days Between are Hebrew and English blessings for festive meals, prayers for synagogue services, and poems and meditations for quiet reflection. Emphasizing introspection as well as relationship to others, Falk evokes her vision of the High Holidays as "ten days of striving to keep the heart open to change."
Read more about The Days Between
© Marcia Lee Falk.
Web site by interbridge. Photo of Marcia by Cathleen Maclearie.